Technology
Niantic brings its Lightship augmented reality mapping system to web browsers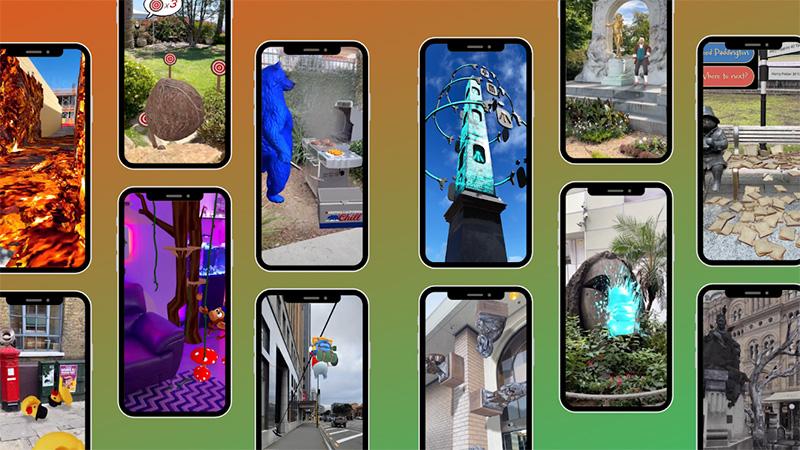 Continuing its push to bring the metaverse into the real world and not just the virtual world, Niantic Inc., the company behind the popular augmented reality game "Pokemon Go," today announced the launch of its Lightship AR mapping system for web browsers.
This web-based AR is made possible with WebAR, a technology powered by 8th Wall, which Niantic acquired in March. Built on the 8th Wall platform, developers and businesses can deliver AR experiences within mobile browsers without the need for custom apps.
The system, called Lightship Visual Positioning System for Web, uses advanced mapping and scanned visual data in order to position virtual objects in the real world for augmented reality content.
Augmented reality works by overlaying virtual objects, sometimes called holograms, over what users can see when they use their devices such as mobile phones or smartglasses. Using Lightship VPS, holograms can be positioned over statues or storefronts with centimeter precision anywhere in a city, allowing for new experiences.
Using augmented reality, developers can create vivid displays of virtual characters and objects that appear to interact with the real world. For example, an experience could have the logo on the box of cereal come to life and leap out and dance on the table, with full awareness of the table's surface, including avoiding the bowl of cereal left between it and the viewer. Walking outside, viewers could look through their mobile phones to see virtual blimps float through the sky and pass behind buildings or watch cartoon characters doing jumping jacks in the park.
Before the launch of Lightship VPS for the Web, developers would need to code for specific AR apps to launch their experiences. Now, they are free from requiring apps and can instead launch directly within web pages, which opens them up to broader audiences.
"At Niantic, we believe that the real-world metaverse should get people exploring and connecting in the world around them," said Niantic Chief Executive John Hanke. "Bringing Lightship VPS to the Web will allow developers to build immersive WebAR experiences that are anchored to real-world locations all around us."
Developers using Lightship can add VPS-enabled locations to Niantic's AR map, or take advantage of more than 100,000 already VPS-activated locations at launch for their web-based apps to build their own location-based AR experiences.
These locations are not just streets and public landmarks, but locations that are publicly accessible, such as parks, paths and local businesses. Niantic has built this set of locations using its community using scans of real-world locations from developers, surveyors and players of its various games. Its users have contributed millions of locations, photos and scans to bolster its network with essential data to make all AR experiences more powerful and vivid.
To demo the technology, Niantic partnered with several design studios around the world to develop visual displays attached to monuments. Atomic Digital Design affixed a hologram, positioned using Lightship VPS onto the famous Obelisk of Luxor in Paris France. Viewers can watch an AR display trigger around the obelisk with hieroglyphs and rings shifting around the pillar with their phones or other mobile devices.
"Today marks a major milestone for the web and augmented reality," says Tom Emrich, director of product management of 8th Wall at Niantic. "Lightship VPS unlocks extraordinary value for developers by offering them a new tool to create WebAR experiences that recognize not only where their users are in the world but also gives them access to relevant information to better integrate the virtual content with the place it is being experienced."
Developers can start creating with Lightship VPS for Web today by logging into their 8th Wall Workspace or by signing up for a 14-day free trial.
Image: Niantic
---
Show your support for our mission by joining our Cube Club and Cube Event Community of experts. Join the community that includes Amazon Web Services and Amazon.com CEO Andy Jassy, Dell Technologies founder and CEO Michael Dell, Intel CEO Pat Gelsinger and many more luminaries and experts.
Source link