Technology
Apple unveils iPhone 14, new AirPod Pro, Apple Watch 8 and A16 Bionic chip
[ad_1]
During its massive "Far Out" product event today, Apple Inc. announced the A16 Bionic chip, the successor to the already powerful A15 Bionic, to power the iPhone 14 Pro and iPhone 14 Pro Max.
Alongside the more powerful mobile chip, Apple also announced the long-expected iPhone 14 and iPhone 14 Plus, which are powered by the A15, as well as a new lineup of Apple Watches and the next generation of AirPods Pro.
A16 Bionic chip
The direct successor to the last mobile silicon chip, the A16 Bionic packs in more transistors with 16 billion and is manufactured on a 14-nanometer process, the first chip in this process from Apple. Like its predecessor, it's designed with components for doing machine learning on the phone in order to accelerate iOS functions and enhance graphics and imagery.
Apple claims the six-core central processing unit, which sports two performance cores and four high-efficiency cores, uses less than one-third of the power of its competition. It also boasts a five-core graphics processing unit and a 16-core neural engine for machine learning tasks. In order to push the boundaries of display technology, it has a new display engine capable of powering new high peak brightness, anti-aliasing, always-on display technology and a 1-Hertz refresh rate.
The chip also features a custom signal processor designed to help power the new iPhone 14 Pro's camera system. By combining the signal processor and the rest of the chip's capabilities, it is capable of performing more than 4 trillion operations per photo.
iPhone 14 Pro and iPhone Pro Max
The new iPhone 14 Pro and the iPhone 14 Pro Max take the dreaded "notch" where the cameras sit and turns it into a new pill-shaped design feature. Apple is calling it a "Dynamic Island" that enables a new way for people to interact with the phone.
The two phones are available in 6.1-inch and 6.7-inch sizes, respectively, and both models feature high-quality Super Retina XDR displays with ProMotion for smooth viewing experiences. The screens also feature the Always-On display technology for the first time on iPhone that enables the 1Hz refresh rate with a power-efficient technology under the hood, while still enabling a bright screen outdoors, up to 2,000 "nits," or twice as bright as the iPhone 13 Pro.
The dynamic island feature takes what was described as the "notch" before, which was a black region of the screen that contained the front-facing selfie cameras and sensors, and transforms it into something that can become part of the display. As a result, it's no longer just a blank space, but it can also contain important information – such as notifications, the battery power of an AirPod, the estimated time that a Lyft ride will arrive, or other important information.
The new Pro and Pro Max phones also feature a new more powerful camera system with what Apple is calling the Photonic Engine. With a deep integration between hardware and software in the new A16 Bionic chip, users will get much better photos than before. The new Pro lineup features a 48-megapixel main camera with a quad-pixel sensor and quad-pixel optical image stabilization. This means that in low-light situations four pixels can be melted into one, resulting in high fidelity low-light capture at 12-megapixel resolution.
The iPhone 14 Pro series also now includes enhanced safety features that can provide emergency assistance when it's needed most.
The phone now includes Crash Detection with a dual-core accelerometer and a high dynamic-range gyroscope that is capable of detecting a severe car crash and automatically call emergency services when a user is knocked unconscious. These features build on other already existing components such as the barometer that can also detect if the airbag had deployed and the microphone, which can determine if loud noises also accompanied the sudden change in speed such as would happen in a crash.
The lineup now also enables users to connect to satellites using Emergency SOS using custom components for when a user is outside of WiFi or cellular range. Because satellites are moving targets in the sky, and they can't be seen by the naked eye, it could be difficult for a user to actually aim their phone at one, so the software in the phone helps the user aim and get connected. The app then front-loads questions to assess the situation for emergency services. This service is coming to these devices in the U.S. and Canada in November and will be free for two years.
The iPhone 14 Pro comes in with a price tag of $999 and the iPhone 14 Pro Max at $1,099. Both phones will be available for pre-order on Sept. 9 and will ship beginning Friday, Sept. 16.
Along with these more expensive prosumer models, Apple also introduced the Apple iPhone 14 and iPhone 14 Plus, which run on the A15 Bionic chip but feature the same sizes at 6.1-inch and 6.7-inch screens, respectively. They similarly have the same new safety features with crash detection and emergency SOS built in.
The iPhone 14 will cost $799 and the iPhone 14 Plus is $899. Both of these phones are also available for pre-order on Sept. 9 and will ship beginning Sept. 16.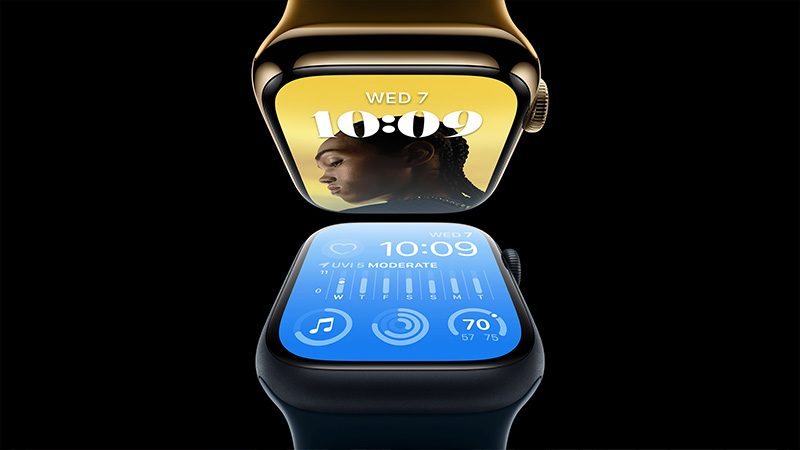 Apple Watch Series 8 and Apple Watch Ultra
Continuing its dedication to the Apple Watch lineup, Apple introduced the Apple Watch Series 8 and Apple Watch SE, which include performance improvements, new sensors and safety innovations introduced above in the new iPhones.
The Series 8 builds on the same feature set of the lineup and includes an Always-On Retina display and a crack-resistant front crystal. It also has an 18-hour battery life. That can be extended up to 36 hours with an iPhone present using a new low-power mode. This new mode disables sensors and limits features, including the Retina display, workouts, health notifications and more.
Safety features included in the Series 8 include the crash detection featured in iPhone 14. It uses the same accelerometer and gyroscope sensor capabilities to detect when the user has been in a catastrophic collision. Using a machine learning algorithm, Apple engineers have used data from numerous crashes to determine what may have happened – including different types of motion data – and if the user does not respond within a 10-second countdown, it will dial emergency services.
Apple Watch Ultra is an ultra-ruggedized version of the Apple Watch designed for outdoors and adventure. Fitting to this expectation, it is encased in a 49-millimeter titanium shell with a flat sapphire front crystal bezel that can take a beating. Its battery can also last 36 hours, which can reach up to 60 hours in a low-power setting.
"Inspired by explorers and athletes from around the world, we created an entirely new category of Apple Watch designed for new and extreme environments — it's the most rugged and capable Apple Watch yet," said Jeff Williams, Apple's chief operating officer.
Aside from its more rugged design, it also has a large, bright-orange "action button" on the side that's hard to miss. It can be easily customized for use within the watch's interface for instant access to features such as workouts, compass waypoints, backtracking and more.
The Ultra also has three built-in microphones with intelligent "beamforming" technology that Apple says will give voice calls crystal clarity even under the harshest of outdoor conditions. That means that even if it's windy or raining, people will still hear the call clearly. The Ultra also uses wind noise-canceling algorithms to boost sound quality further.
In addition, it includes a powerful Compass app capable of adding Waypoints and tracking a path as the user moves using global positioning. By pressing the action button, a waypoint can be added to mark a point of interest along a path, this also means that it's less likely that a hiker or explorer will get lost in the wilderness.
The Ultra also includes a large speaker, and should explorers get separated from companions, they can trigger an 86-decibel siren designed for emergencies that can draw attention to their location. Its unique sound mimics a universally recognized SOS pattern that can repeat for up to several hours.
The Apple Watch Series 8 starts at $399, and the Apple Watch SE, which includes the core features, starts at $249, both watches can be ordered today and arrive in stores on Sept. 16. The Apple Watch Ultra sells for $799 and will ship on Sept. 23.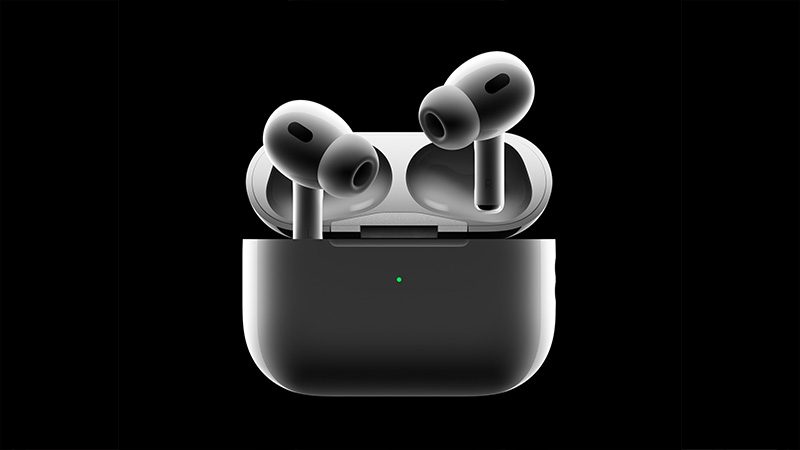 Next-generation AirPods Pro
The next generation of AirPods Pro brings a whole new sound design to users' ears with a new H2 chip that allows for enhanced active noise cancellation and transparency mode. It will also give users a whole new way to interact with the AirPods by providing new touch controls.
The previous version of the AirPods Pro was powered by the H1 chip, a sound chip that provided exceptional sound performance, but with H2, Apple says it's bringing it to a new level. Using the power of the H2, the new AirPods Pro can cancel up to twice as much ambient noise as the previous generation.
AirPods Pro also provides a feature called "adaptive transparency," which allows users to put them in their ears and still hear the world around them, but also not suffer from loud noises. Using the power of the new H2 chip, it allows for on-device processing to reduce loud environmental noises adaptively – such as jackhammers, noisy passing vehicles or even concerts – which allows users to get on with their lives and listen to what they want to hear like the music in their ears.
The devices also feature a new type of customized spatial audio that takes into account that everyone's features (or in this case faces, skulls and ears) are shaped differently. As a result, everyone perceives sound in a different way based on the size and shape of their head and ears. Using the camera on their iPhone, users can scan themselves into a personal profile and then, using the power of the new H2 chip, it can deliver a personalized spatial audio experience just for them so that sounds from the AirPods will appropriately track head movements.
AirPods Pro now has a "light touch" feature that allows users to control media playback without using another device. For example, a light swipe of the stem of the AirPods up or down could raise or lower volume, or a light press could stop or play music, answer a phone call and more. It uses an improved skin-detecting sensor that allows for gentle gestures against the stems.
The new charging case also features a locating "find me" feature so that if the user has a phone with that capability enabled they can locate it if it's lost inside the couch or mislaid on a counter. The charging case also has a built-in speaker capable of making a louder sound, so it's even easier to locate should it be under a pile of clothes.
The new AirPods Pro will be available to order for $249 from the Apple store starting on Sept. 9 and will arrive in stores on Sept. 23.
Images: Apple
---
Show your support for our mission by joining our Cube Club and Cube Event Community of experts. Join the community that includes Amazon Web Services and Amazon.com CEO Andy Jassy, Dell Technologies founder and CEO Michael Dell, Intel CEO Pat Gelsinger and many more luminaries and experts.
[ad_2]
Source link