Technology
Analysts forecast key enterprise data trends for 2023
[ad_1]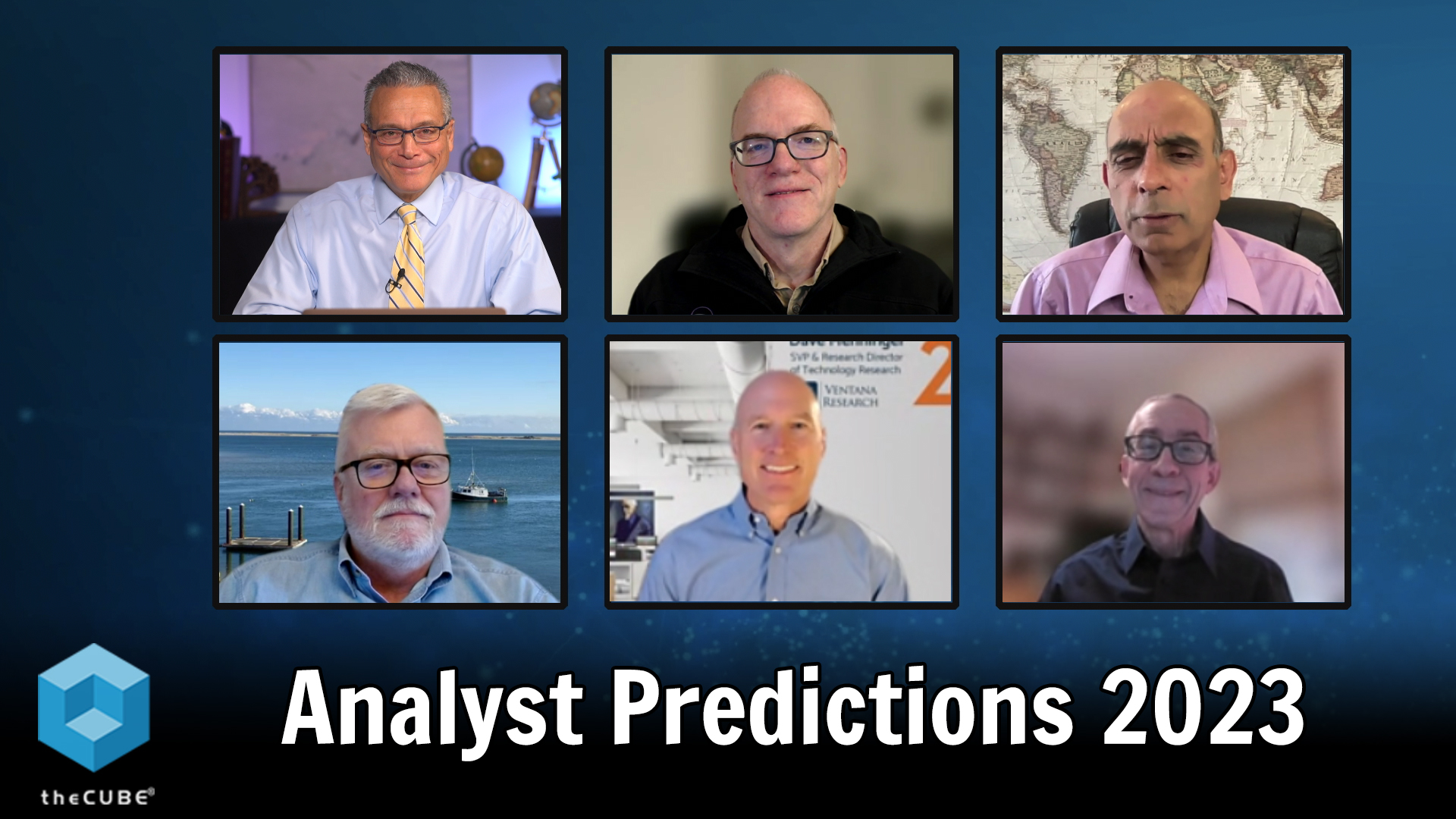 Salesforce Chief Executive Officer and co-founder Marc Benioff once said, "You must always be able to predict what's next and then have the flexibility to evolve."
This mantra could easily apply to the panel of industry analysts assembled by SiliconANGLE Media a year ago to discuss how data management was evolving and what listeners could expect from the enterprise computing world for 2022. SiliconANGLE brought the same group back together again to assess how their predictions for last year fared and what 2023 may bring.
"We're able to bring to our program a level of expertise that allows us to more deeply explore and unpack some of the topics that we cover throughout the year," said Dave Vellante (pictured, upper left), industry analyst for theCUBE, SiliconANGLE Media's livestreaming studio. "And one of our favorite topics, of course, is data."
Vellante was joined by Sanjeev Mohan (pictured, upper right), principal at SanjMo; Tony Baer (pictured, lower right), principal at dbInsight LLC; Carl Olofson (pictured, lower left), vice president at IDC; Dave Menninger (pictured, lower center), senior vice president and research director at Ventana Research; and Doug Henschen (pictured, upper center), vice president and principal analyst at Constellation Research. They discussed how their predictions fared in 2022 and what's in store for the coming year in enterprise IT.
Data governance and data mesh
The panel discussion opened with a rundown of last year's predictions and a self-assessment by each analyst of accuracy in the results. Mohan had forecast that data governance would become key in 2022, a prediction that was largely correct.
"I fully believe that data governance was in a renaissance in 2022," Mohan said. "Look no further than AWS launching its own data catalog called DataZone. Before that, Unity Catalog from Databricks went into general availability. When you see these big players launching a new data catalog, you know they want to be in this space."
Baer believed that the data mesh, an architectural model for leveraging data at scale, would get a reality check last year.
"One of my predictions was that you would see data mesh washing," Baer noted. "Data mesh really did hit a lot more scrutiny."
Momentum for graph and streaming
Data architecture also factored into Olofson's prediction that graph databases would take off, although perhaps not as rapidly as he originally thought.
"It's really a three-to-five-year time period that graph databases will become significant," Olofson said. "They still need accepted methodologies that can be applied in a business context, as well as proper tools for people to use them seriously. But I stand by the idea that it is taking off because Neo4j, which is the leading independent graph database provider, had a very good year."
Another prediction was that streaming data would permeate the landscape. This has been only partially realized, according to Menninger.
"Nearly every data platform offers streaming capabilities now," Menninger said. "But streaming hasn't become the default way in which we deal with data. It's still a sidecar to data at rest."
Henschen's prediction that data lakehouses would become a dominant factor was validated in 2022, accompanied by announcements from several major providers.
"Google introduced its BigLake service alongside BigQuery, and Salesforce introduced Genie, which is really a lakehouse architecture," Menninger said. "I'd say the top, leading edge 5% of companies have really embraced the lakehouse. Now we're seeing the fast followers, the next 20% to 25% of firms, embracing a lakehouse architecture."
Move toward unification
Looking ahead to 2023, the analysts believe there will be significant focus on unifying metadata, analytics and the modern data stack.
"The metadata space is currently a mess; it needs to get unified," said Mohan, with a prediction that unified metadata would become a kingmaker. "In 2023, we will see that metadata will become the driving force behind things like DataOps, things like orchestration of tasks using metadata, not rules. This space is starting to gel."
Baer believes that there will be a significant amount of attention paid to rethinking the modern data stack, which has so far been defined as an operational database and data warehouse powered by tools in between.
"I'm calling on all the data providers or all the SaaS service providers to get it together," Baer said. "Make this modern data stack less of a stack and more of a blending of an end-to-end solution. AWS just did zero-ETL, which is a first step towards simplifying the process of going from Aurora to Redshift. There's some good moves in this direction, and I expect to see more of it this year."
The definition of data itself will likely expand in 2023, according to Menninger. This will be accomplished through use of third parties and closer management of artificial intelligence and machine learning models.
"Data on its own is really insufficient," Menninger said. "We see more of these platforms acquiring and publishing data to external third-party sources, whether they are within some sort of a partner ecosystem or whether it's a commercial distribution of that information. We're starting to see the ML ops elements of managing AI and ML models find their way closer to the data platforms as well."
Year of SQL and embedded analytics
Structured Query Logic, or SQL, is also making a major comeback in 2023, according to Olofson.
"What's happened in the past couple of years and what will continue to happen is that SQL is insinuating itself into everything we're seeing," he said. "The reality is that SQL is better understood than most other methods of retrieving and finding data in a data collection."
Henschen believes that business intelligence and analytics will be increasingly embedded and automated within operational systems.
"I'm seeing rising interest in embedding concise analytics at the point of decision or using analytics as triggers for automation and workflows, and not even necessitating human interaction with visualizations," Henschen said. "Leading enterprise apps vendors, such as Salesforce, SAP, Microsoft and Oracle, are all building smart apps within analytics predictions, even with recommendations built into these applications. The progressive BI analytics vendors are supporting this idea of driving insight into action."
Here's the complete video panel discussion from SiliconANGLE and theCUBE:
Photo: SiliconANGLE
---
Show your support for our mission by joining our Cube Club and Cube Event Community of experts. Join the community that includes Amazon Web Services and Amazon.com CEO Andy Jassy, Dell Technologies founder and CEO Michael Dell, Intel CEO Pat Gelsinger and many more luminaries and experts.
[ad_2]
Source link